Look, I found one more way to annoy people. Or heck, maybe you'll even like it!
Here, listen to some music while looking at this page.
*****
It was time for another meeting. Trade was booming, interstellar commerce was flourishing, and tourism was raking in the dough. Still, some people wanted to leave the planet, and so the
A
stral
S
pace
S
ociety
H
elping
O
thers
L
eave
E
arth was created. Sure, there had been the
F
ederation of
U
nited
C
olonists before, and the
O
ther
F
en
F
olk, but they weren't very helpful.
Unfortunately, the war had not been forgotten, and soon, they were forced back into
lockdown
, with communications being difficult. Every once in a while, a
comment
would get through, and new
friends
would be found within the empire.
The end.
Web Site Counter
Create your own visitor map!
From December 30, 2009
(
Who comments the most on this journal?
Collapse
)
From April 21, 2009
(
Who comments the most on this journal?
Collapse
)
If you're not my friend, drop me a comment, and/ or play some Sudoku. Don't mess with me.
Free sudoku
by SudokuPuzz
Or maybe you'd prefer a nice adventure game like
Moon Colony Sciffy Circo
. Or if you prefer,
The Dungeon of Sciffy Circo
.
Get your own Chat Box!
Go Large!
Mood:

pissed off

Music:

a song from one of my stories
Mostly games, a couple chat things. Most recent at the top. Keep in mind that I haven't played some of these in quite a while, but if you drop a comment that you're interested, I might click back over there.
Current favorite games:
Free Realms. Came out of closed beta in late April, 2009, and I discovered it in the first 24 hours. It seemed very kid-friendly and a very cool MMORPG. I debated for a few days whether or not I'd tell my 13 year old daughter about it, or keep the secret for myself, hehehe! But I told her, and she said, "It is AWESOME!!!"
Here
is my character profile.
Free Realms
hit 1 million people in just 17 days
! Less than a month later, they hit
2 million people
!
Here
is a video about Free Realms. It starts out like the trailer, but then launches into an interview with the game designers. There's also an awesome
in game song
done by
The Dares
, which is even planning an
in game concert June 2, 2009, 4pm Pacific
.
The other one is
Maple Story
, which I'm also playing with the kid. She invited me. How could I say no? This one reminds me of Super Mario World. After my daughter discovered Free Realms, we haven't played this one as much.
My favorite game was Puzzle Pirates. I tried to get my daughter to play this one with me, but it didn't work. She got mad at some lousy captain making her walk the plank, and didn't want to go back to the game. I only stopped playing this one for that reason, and that we'd found other games. It really is lots of fun!
Click the widget and take a look. Here's my favorite character, on my favorite ocean:
Viridian Ocean: Cheepcrow
</p>
View my Pirate Page
Other pirates below the cut.
(
Read more...
Collapse
)
This one is not free. You need to buy the boxed game. You can either download your friend's creations, everybody in the universe, or not download anything. But having stuff from your friends is just plain fun! This game was going to be called "Sim Everything", but the code name stuck, and it got called Spore. Here's my profile:
http://www.spore.com/view/profile/SciffyCirco
Same goes for The Sims 3...
Location:

google

Mood:

bouncy

Music:

video game music
Here's a chatbox for people I play games with to talk to each other. I put it here because most of the games don't allow html code, and you can't send a message from one order/ clan/ alliance. etc. to another. So here's hoping that we get some good communication!
(
Click here for the chatbox
Collapse
)
Location:

Chicago

Mood:

amused

Music:

nothing
I wrote this last week, when I was waiting for Brice at Woodfield Mall.
Ode to a McDonald's Shamrock Shake, By Adrienne McClintock
I have always loved you,
your green and minty goodness,
only available for a
limi(n)ted time offer.
But to hear it's been
made better, new and improved,
how could they?
Improve on perfection?
Is it possible?
I went for a Large,
and shelled out as much
as I would have paid for
a $tarbuck$ Crappuccino,
with their made-up names
for sizes,
and Grande=Medium, not Large.
The cashier said it came
with whipped cream and a cherry--
Was I okay with that?
Oh, heavens, YES! Absolutely!
I watched as he filled a
clear plastic cup,
slowly filling,
rich, and green, and dreamy.
The other cashier tried
to call me back to Earth--
"Your change, Ma'am,"
but I was still entranced
by my treat.
Oh, to pierce perfection
with a straw!
In my childhood, they used
paper cups, but today,
clear plastic!
I forgot all about recycling
as I marvelled at green ripples,
marbled layers on the sides
of the shake cup,
whipped cream encompassing
the plastic dome,
like the clouds in the sky,
the cherry like the
setting sun, to finish it off.
Oh, I will sip slowly,
this Shamrock Shake,
this marvelous minty perfection!
'Tis a shame you only come
for a short while every year,
but perhaps it is why
I treasure you so.
A good Irish drink,
at McDonald's?
Shamrock Shake!
Slainté!
This was re-dated to December 31, 2009 to show upcoming events for the year.
(
Read more...
Collapse
)
Location:

Brice's Burrow

Mood:

busy

Music:

"Christmas at Ground Zero" by Weird Al Yankovic
I figured, what the heck...
Looks like part online shopping, part MLM, probably won't get a dime out of it. But I still figured, what the heck.
http://www.adriennemcclintock.monkeyjar.com
If you go to the page, there's a sign-up on the right where you can enter your own e-mail address and sign up for it. I added the stores I'd shop at the most (if I had any money), the places I've shopped before, and places I know bunches of my friends shop, and a few things thrown in, just because. I'm not going to add much stuff I've never heard of, or never shop at.
Location:

teh intrawebz

Mood:

okay

Music:

some free CDs from Guitar Center
Yes, this *IS* a rare public post! I'm just SOOOOO excited about this!!!
When I went to Reenactor Fest in February, there was a company there saying they were looking for historical reenactors to be in movies and commercials called
Prairie Star Productions
. They had just sent people out for The Weather Channel show "When Weather Changed History". They were taking everyone's info, and photos, and Brice and I figured, what the heck. It can't hurt, and might even help! Neither one of us seriously thought we'd ever get called.
In April, Brice got a call, and told me, "Call these people back! They want people in our area, and have a very short list of who they can take!". I called back as close to immediately as I could. They asked what exactly I did, confirming what I had told them on my application. I've worked at Bristol Renaissance Faire as a vendor's assistant since 2003, we'd auditioned and been accepted into the military guild (Guilde of St. Michael) and graduated
BAPA (Bristol Academy of Performing Arts)
for the 2007 season, went back to vendors for the 2008 season, and were looking to get more into French & Indian War.
I just looked, and MY GOD! The class schedules for BAPA 2007, the year Brice & I graduated, are still online!
Here
is the stuff we learned! Yes, they've got the whole slew of PDF files, and I still sort of remember which classes we took. It was an amazing season, with brilliant teachers! I'm not sure it's possible to thank these people enough!
The acting company said they were not looking for a camp follower (person who follows the military), or a peasant. They wanted me to wear the outfit they'd seen me in, and portray a merchant.
Yes, this outfit that I wore to Reenactor Fest.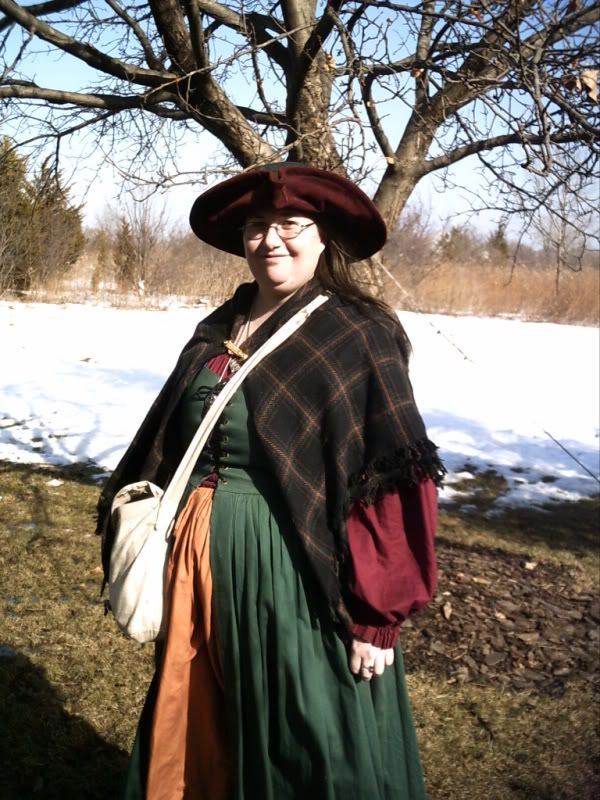 Portray a merchant, rather than being paid to be a merchant's assistant? Hrm, that would be an interesting twist! Did I have any props? Um... er... props? No, you don't seem to understand. I sold what they gave me to sell. But I'm sure I could come up with something.
I mentioned this at karaoke in April, and two ren faire goers were in attendance. They asked about old outfits, and what I used in daily life, the stuff I always brought with me when I went to faire. I said, "OH!!! That's so obvious, I didn't think of it!" So I can thank Anthony Faust
xirpha
and
salexa
for helping me with that idea, and Brice
electronicrope
for going through his basement, and coming up with a LOT of stuff!
When it got closer to the date, Brice said he would not be able to join me. He had something going on in Madison Friday, followed by a Boy Scout trip to Devil's Lake (Wisconsin Dells) over the weekend. I would not be able to use his car because of this, and my car was still in need of repairs.
xirpha
would not be able to come and pick me up, but could give me a lift from the bus stop.
raven_ap_morgan
had music producing appointments, and would not be able to join me on the bus. Argh, a 3 hour bus/ train ride alone, with a banana box full of stuff, in addition to a backpack with my outfit, and a couple other bags! I knew I was going to suffer for my art! And boy, did I get some strange looks for wearing my hat! It was the best way to carry it, and the rest of my outfit was a Bristol polo shirt, covered with Bristol sweatshirt, black jeans, and Bristol boots, and a few Bristol bags and pouches, a backpack, and my heavy banana box.
I got several phone calls while on my trip, asking how far along I was, and
raven_ap_morgan
said I was making good time. I'd left at 7am, and got to the finishing point at 10am. I'm sorry I annoyed
fitzotter
with my calls, looking for
xirpha
, who did ultimately pick me up at the ending bus stop. He mentioned his folks were actually living in the senior assisted living center where this event would be held, but he was busy with other things, and might be able to pick me up later.
I walked into the building with my stuff. I strode up to the front desk, they saw my hat, and I said, "Guess why I'm here!". They said the renaissance faire was setting up in a room down the hall. I was quickly followed by other people also there for the event, who showed me the room.
And now the pictures and fun really begin!
(
Read more...
Collapse
)
EDIT
: I just realized, the day of this event, May 1, was May Day! How the heck can we ALL do a renaissance faire on that day, and not a single one of us remember to dance around the maypole?!?
More Edits
Got my first set of e-mails about the event, and better pictures! Here we go...
(
Read more...
Collapse
)
From Tuesday, May 5, 2009
Re: Thank you
Hi,
Wow – very impressive Adrienne. Thanks for sharing your journal.
Here are some pictures that I thought you may all like to see. We're also on youtube – 2 videos – Welcome to King Richard's Renaissance Joust and the Jousting Match.
http://www.youtube.com/watch?v=p8kFVxmqlGI
http://www.youtube.com/watch?v=Rpm_P8aozp4
I think you will enjoy these – I have at least a dozen times.
Sincerely,
Donna
p.s. I will send more pictures in following e-mails
-----
REALLY GOOD pictures behind the cut! From Donna Brown
(
Read more...
Collapse
)
Yep, pictures. Maybe not a fancy slideshow, but they're up.
This is only HALF the pictures I took while on our trip. But so far, ALL the Camp Paradise pictures are up, and I'll be posting the others on this link.
The pictures were taken with a Fisheye lens camera. Details at
http://www.lomography.com
They are in subfolders along the side, according to what roll they were on. There will be slideshows created if and when I get the time for it. I think I got them done for the first seven rolls. I took 14 rolls worth of pictures, with 27 on each roll, and maybe 3-6 of each roll didn't come out at all, maybe 1/3 of what came out were perfect, and the others were a "learning experience".
I will also post when I get the time, more about the trip. I haven't exactly had the time to get online, and my computer seems to hate everyone right now.
First trip post is at:
http://sciffy-circo.livejournal.com/152326.html
Photos are at:
http://s8.photobucket.com/albums/a16/sciffy_circo/Fisheye%20Camera/Camp%20Paradise%202008/
There are slideshows for all the Camp Paradise stuff, rolls 1-7, and I'm working on the rest! It's marked in each of the subfolders as a slideshow.
Share and enjoy!
Also, Brice wants to bring people along for next year, and put them on our team. Yes, they do separate the men and women for sleeping, but NOT for work. "Weaker" people may get to do kitchen work, or sweeping dust & bugs out of cabins, rug beating, raking leaves, that sort of thing. "Stronger" people do log splitting, bridge building, construction, building comm towers, and more!... but we ALL get the bucket showers!!! Even if you ARE in the Camp Paradise Marriott, or Hilton! Heck, if we get enough reenactors, we may be IN next year's Mackinaw City Memorial Day pageant, not just watching it! Yes, we've got their contact info! And any history buffs WILL have fun!!! 2 forts on the island, 1 in the city, a water-powered sawmill, a lighthouse, and more! And a Maritime/ Shipwreck museum outside Paradise, MI (which we passed up, trying to get to the other stuff).
From an e-mail to a friend at Bristol Renaissance Faire:
(
Click here, because it's long. No pictures YET.
Collapse
)